This selection of superb children's titles, make up the breadth of my holiday kids recommendation list. They vary from hardcover picture books to intermediate, contemporary and classic. Mostly what they have in common is an indelible charm defined by quaint, universal narrative and extraordinary illustrations tailored to the specific texts. In this age of toddler marketing strategies, DVD parenting and extremely aggressive brand promotions, these books are standouts as prime examples of what should be at the center of story-telling for children- BOOKS.


The Miraculous Journey of Edward Tulane by Kate DiCamillo is shelved in the intermediate section of the children's area, but is really very appropriate for children and adults of all ages. It tells the story of the porcelain rabbit, Edward Tulane. He begins a very vain little toy and ends up separated from his owner, proceeds on a very Homeric journey from a boxcar to the bottom of the ocean into a seaside village and eventually a home, generations later.


Toys Go Out: Being the Adventures of a Knowledgeable Stingray, a Toughy Little Buffalo, and Someone Called Plastic, is also intermediate reading, but all-ages appropriate. The chapters are interconnected but tell separate stories about the adventures these charming little toys have when humans leave the house. One story is called "The Terrifying Bigness of the Washing Machine"- it's awesome. This was also published in 2006 and was written by Emily Jenkins.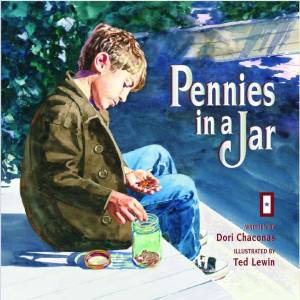 Pennies In a Jar by Dori Chaconas (Author) and Ted Lewin (Illustrator) tells the story of a young boy who promises to be brave when his father goes off to fight in World War II. The child lives in a world of air raid sirens and general wartime conditions. He, of course, meets a new friend who shows him that there are things to do for his father, even though he is so far away. Overall, this is great historical fiction for little people. Lewin provides great Rockwellian illustrations, very innocent. Chaconas is also a local Wisconsin author!


Crossing by Phillip Booth and When I Heard the Learn'd Astronomer are also in this same classic narrative vein. An old-time steam engine rumbles past in Booth's 1957 poem "Crossing" from his debut collection Letters from a Distant Land. The nostalgic illustrations by Bagram Ibatoulline (also, illustrator for Edward Tulane) invoke a longing for the simple act of waiting at the railroad crossing, the rattling boxcars.


Walt Whitman lends his poetry to When I Heard the Learn'd Astronomer. Booklist offers a great synopsis: "Long's story-in-images makes a fine introduction for very young children. His interpretation of Whitman's eight-line rebuke of stuffy pragmatism tells a familiar story: A little boy obsessed with outer space has been dragged to an astronomy lecture. Unable to make sense of the speaker's pontifications, the fidgety youngster takes his toy rocket ship outside, where he marvels at the "perfect silence of the stars, casting a decisive vote for creative speculation over chilly analysis." I love this book so much, how rare to find a perfect adaptation of Whitman to add to a child's important budding library.


The young boy in Wilfred Gordon Mcdonald Partridge spends his days in the retirement home next to his house. The relationships he forms with these wonderfully patient and wise elders are so darling. He is drawn on a skateboard mostly, weaving around the chairs. Wilfred's favorite is Miss Nancy Alison Delacourt Cooper, who also has four names. Upon learning that she is losing her memory, Wilfred makes it his goal to give Miss Nancy enough of his own memories to take the place of what she has lost.


Finally, what I am most excited about this holiday season is the 10th-anniversary edition of Patricia Polacco's The Keeping Quilt, Polacco's family story about a quilt made from an immigrant Jewish family's clothing from their Russian homeland. The story is very cyclical, chronicling the cross generational journey and multiple functions of this "keeping quilt." The only color used is in the babushka and dress of Great-Gramma Anna, which become part of a brightly hued quilt. I love to quilt and recognize the importance of preserving one's heritage through shared heirlooms. This book is beautiful.